Repointing in Sussex & Hampshire
Coastal Wall Ties are repointing specialists and we consider ourselves to be one of the top repointing contractors in Sussex & Hampshire. Our Expert knowledge and passion for our work shows in every job we undertake, no matter how big or small. From listed properties, Churches, Bungalows, Houses, Commercial properties, Chimneys or Garden walls we can ensure that you only get the job done once, and correctly.
What is repointing?
Repointing is the process of renewing the pointing (the external part of mortar joints) in masonry construction. Weathering and decay cause voids in the joints between masonry units, allowing the undesirable entrance of water.
It is essential that the mortar used for repointing have similar performance characteristics to the original mortar used in a building. Coastal Wall Ties take samples of the mortar to ensure the pointing is replaced as close to the original mortar as possible.
Types of Pointing
There are several types of pointing finishes available these are:
Flush
Bucket Handle (compressed rubbed finish)
Recessed
Weather struck
Birds beak
Tuck pointing
The Pointing Process
The first part of the re-pointing process is to remove the old mortar by a minimum of 20mm, ensuring all mortar is removed to the top and bottom of the joint, this is done using 5″ angle grinders equipped with diamond mortar raking blades and dust extraction hoovers. In some cases power tools are not permitted and the use of hand tools such as comb hammers will be used.
The walls are then washed down to remove all loose dust from the joints in preparation for pointing.
When applying the mortar we use a traditional hawk and trowel, this enables us to force the new mortar into the joint ensuring their are no voids, then the mortar is shaped to the required finish.
This is a skilled operation and our staff are fully trained to extremely high standards.
Listed building repointing in Oving
This listed property In Oving, West Sussex had been poorly made good with a strong sand and cement mix. After carefully removing the old mortar, re-pointing commenced using pre-mixed lime mortar to a birds beak finish.
Lime Mortar Repointing in Sussex
Coastal Wall ties are specialists in repointing and have experience using many different mortars and finishing in various styles, we are often working on grade 1, 2 and 3 listed properties.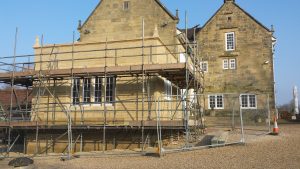 Repointing flint work in Brighton
Coastal Wall Ties were asked to repoint the flint walls of a crematorium in Brighton. We carefully removed the lime mortar to a depth no less than 20mm using comb hammers and repointed using a 3:1 lime mix (3 parts black sand : 1 part natural hydraulic lime).
Most of our re-pointing work is on domestic properties in Sussex and Hampshire and we also welcome contracts from managing agents and building contractors. We are fully insured and guarantee our work is done to the highest standards and comply with the latest Health and Safety regulations.
If you're ready to update the look of your home but are worried about your pocket, CONTACT: 01903 713053/ 07513 345231. We have the tools, craftsmanship and reliability to get the job done, at a price you can afford.